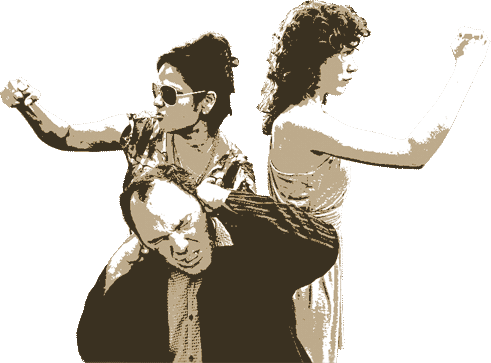 Photo by Rino Pizzi
News
Rabbit Fist
aims to combine melodic song-craft on subjects of existential whimsy and political neuroses with sonic rock stimulation you can dance to.
Here are some more words: Doom pop. Literate Dance Music.
Listen to the tracks above from the new Album
Electrogenic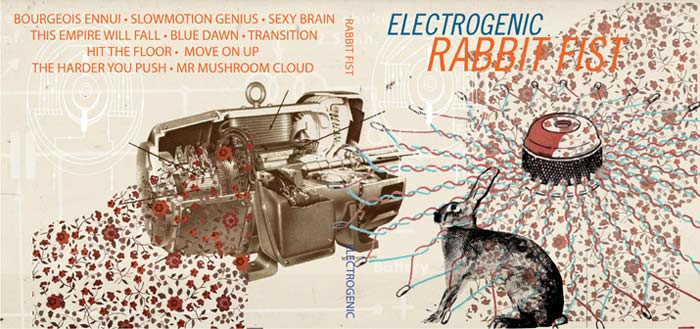 Cover art by Lance McMahan
---
BIO
Rabbit Fist is:

Harold 'Bummy' Lehman : Voice, Guitar, Bass, Electronics

Virginia 'Vajaja' Meza : Drums

Erika 'Kiki' Payán Zanetti : Keyboards


Some time after the turn of the century, multi instrumentalist Harold "Bummy" Lehman recorded an album under the name Rabbit Fist. Shortly thereafter a band was formed. After some initial rotation the line up solidified to Drummer Vajaja (Virginia Meza) and Keyboardist E.P.Z.

Vajaja (Virginia Meza) is a veteran of several Austin bands including Candi & the Cavities, The Devil Bat, UnHung Heroes, JackieOno, Bandinis, Soul People, SlendorKünt, Vibralux and some other ones that never made it out of the garage. She claims to have put the lime in the coconut way before it was fasionable to do so and has a fear of being tazed.

E.P.Z (Erika Payán Zanetti) comes from a musical family, in which her maternal grandmother is a classical pianist, her paternal grandfather a jazz pianist, and her parents are music enthusiasts with vast Latin-genre record collections.  She dabbled for years with performance piano and keyboard, from performing classical pieces in recital halls to making loud noise in neighborhood garages.


Videos